CAD/CAM Designs
The design and technology department at EDM Tools was created for tool shops that do not have their own construction facilities or need technical support.
The main subject of the company's design are graphite electrodes used for plunge-cutting in molds for:
– processing of thermoplastics,
– die-casting of aluminum.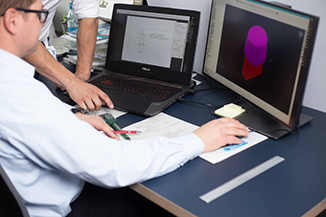 For the efficient execution of the order, we need:
– in the case of electrode construction:
– solids with marked hollow areas,
– in the case of ready-made electrode models, information about:
– the adopted gap (offset),
– the smallest necessary radius,
– the fastening system used (EROWA, 3R, Hirschmann),
– surface finish (VDI).
Experience in the design and production of graphite electrodes has resulted in cooperation with several tool shops, injection plants and foundries. Trying to meet the high expectations of our customers, the company has the NX CAD / CAM software, which significantly speeds up the entire design and documentation process.
We invite you to cooperation


Arkadiusz Makowski
☎ (+48)506 814 233
✉ arek@edm-tools.eu